Homeschool Piano Lessons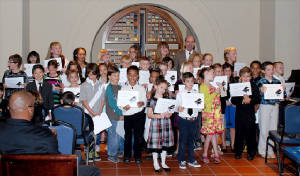 " I am delighted to be a strong musical resource for the Home School Community. I support the movement for choice in education, and focusing our children on academics, ethics, and the Golden Rule. I believe in Home School education. Home Schoolers because of their values and time to practice, are nearly always among the best of my students."
MrEvan
Mr. Evan has been a wonderful teacher for our daughters. His use of positive reinforcement & verbal praise encouraged our daughters greatly. They both excelled quickly in their piano skills and enjoyed their lessons with Mr. Evan. The studio is spacious and accommodating. I am able to listen & watch one daughter from a comfortable and separate room that also allows me to play or work with my other daughter at the same time. As a homeschool family we appreciate Mr. Evan's flexibility in working with our sometimes changing schedule and finances. He has willingly put in the extra work as a vendor for our homeschool program. Thank you Mr. Evan for a wonderful piano experience.
The Taylor Family
To All Parents:
We have been so impressed by Mr. Evan Sachs teachings of the love of piano. Our daughter Angela has exploded with unimaginable amounts of talent and love for the piano! My husband and I will be eternally grateful for the knowledge and patience and encouragement that Mr. Sachs has given to our daughter! He has been a means to our daughter's self esteem and confidence! Thank you so much, Mr. Sachs!

Tim and Cheryl Abbott, Homeschool Parents, San Clemente
Dear Mr. Evan,
We want to thank you for doing such a nice job with our daughter's music training. She has really evolved under your teaching. We appreciate how you've helped her love of singing and incorporated that with her piano lessons. She now confidently sings, matches her voice with her chords and fills our home with music most free moments of our days. In addition, she has learned her music basics - reading notes and playing piano.
You've done a wonderful job of encouraging her and keeping her engaged as she progresses in her music.
Thank you,

Sarah Bjorklund, Home School Parent
We are so grateful to you for your inspirational guidance to Elyse's piano playing skills. She has come to love playing again because of your openness to her musical taste.
Steve, Sharlene, and Ellyse Elmer
Homeschool Parents, San Clemente
Dear Mister Evan,
Thank you for your patience in teaching Donald how to play the piano. We love how he is excelling!
Sincerely,
Kathleen and Family
August 28, 2014
Vendor Name: Evan Sachs – Piano teacher
Website: http://www.misterevan.com/
Address: 226 W Avenida Palizada
San Clemente,CA 92672
Services they offer: Piano lessons - O.C. area
Parent/Peer Review: "Mr Evan is very well known in the homeschool community. He teaches piano out of his home in San Clemente, but also has no problem driving to your home for lessons. The lessons cost a small amount more if he comes to your home. He drives all over: Coto de Caza, Rancho Santa Margarita, Aliso Viejo, Mission Viejo, Laguna Niguel. He has been teaching my young elementary age daughters since February and they are doing great. They even got to participate in his Summer recital this past July. He works great with the little kids and is all about positive reinforcement, but does also correct them. He gives them everything from stickers and pennies to exuberant verbal praise as a means to encourage them for doing well while playing, and often lets them select from his "toy treasure chest" in the trunk of his car before he is off to his next lesson. It is great incentive for the kids. He teaches on up to high school age, and has many teen students enrolled in the Certificate of Merit Program"
Gail Crozier